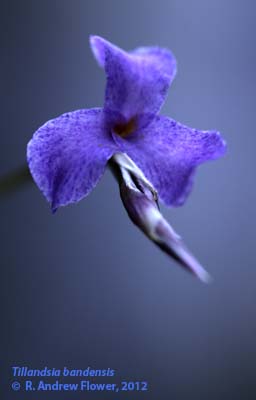 We are a small plant nursery specializing in the production of tillandsias. Our nursery is at Pukerua Bay, near Wellington, in New Zealand.
The site is made up of photographs of plants, most of them in our nursery, plus general notes about the plants and additional articles for reference if you want more detail.
Before you go and look at the photos, we strongly recommend you read in the Sundries section about our policy on plant names. This is important because nearly all the plants we grow from seed are wild plants, not carefully cultivated and selected like most garden plants you buy in commercial retail outlets. Sometimes the name on the seeds turn out to be wrong, and sometimes botanists change the names of plants so we have a Sundries page where we record name changes of plants we have supplied in the past.
If you have any questions, you are welcome to email us or phone (04) 2399-659
Legal Stuff
We are happy to have individuals browsing our web site for their own pleasure, and we are happy for other sites to include a link to our homepage www.anwyl.com if they wish. What we ask is that you do not use our photographs or articles directly on any public forum without asking us first. Please do not embed direct links to any of our pictures or articles on another web or message board, and please don't copy them in any other publication - you may refer to our site if you want to, and if people are interested they will come and look for themselves. Thanks.
All material on this site is copyright © Anwyl Bromeliads, all rights reserved, and is not in the Public Domain.
Anwyl Bromeliads, P.O. Box 57-021 Mana, Porirua 5247, New Zealand.